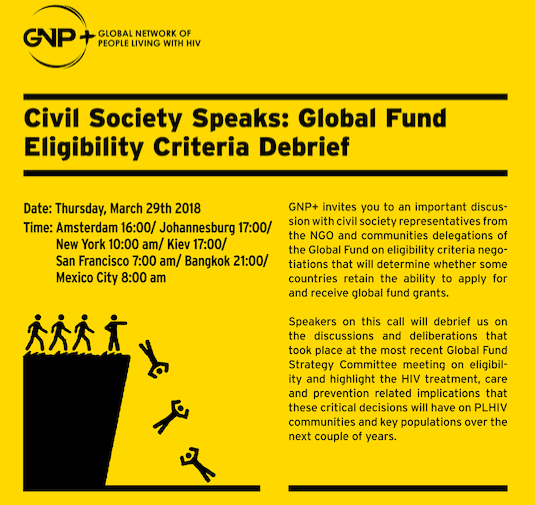 The Global Network of People Living with HIV (GNP+) has released its recorded teleconference call that debriefed to community members the discussions and deliberations taking place at the Global Fund Eligibility Criteria Committee Meeting. This meeting was held to discuss eligibility criteria negotiations that will determine whether some countries retain the ability to apply for and receive global fund grants.
Speakers on the call include: Rico Gustav, Senior Policy Adviser – Sustainability, International Civil Society Support, Board Member of the Communities Delegation of the Global Fund; Allan Maleche, Executive Director, Kenya Legal and Ethical Issues Network on HIV and AIDS (KELIN), Board Member for the Global Fund Developing Country NGO Delegation (TBC) and Mike Podmore, Director of STOPAIDS (UK), Board Member for the Global Fund Developed Country NGO Delegation.
You can check out the recording of the teleconference call (1 hour + 43 minutes) by clicking here.