UNAIDS Launches Data Dashboard in the Asia-Pacific Region
A new data dashboard to enhance the HIV strategic information products that were already available on the AIDS Data Hub for the Asia and the Pacific region was launched on 30 October.
Developed by UNAIDS, the platform allows users to visualize data and indicators related to HIV epidemiology and the AIDS response in the region through customizable maps, graphs, tables and fact sheets by indicator, country and key population. It also facilitates integrated analysis and gives access to granular data. The data dashboard is a one-stop shop that offers HIV-related strategic information, data analysis products and reference documents.
"With concrete targets to be met on the way to end the AIDS epidemic by 2030, it is vital to have the right data tracking whether the Asia and the Pacific region is on course to meet the commitments made in the 2016 United Nations Political Declaration on Ending AIDS. Data show us how far we have come and how far we have to go," said Eamonn Murphy, Director of the UNAIDS Regional Support Team for Asia and the Pacific.
Accurate and credible data on the HIV epidemic are the cornerstone of the AIDS response. Over the years, a detailed understanding of the HIV epidemic has been built up through the collection, analysis and dissemination of data, helping programmes to reach the right people in the right place and at the right time. Having high-quality data on the AIDS response coupled with cutting-edge analysis has been critical for countries to track their progress towards ending the AIDS epidemic.
UNAIDS and the Data Hub team work with all the countries in the region to collect and analyse data on their AIDS responses and to help build their capacity to generate and use strategic information. In the region, no major report, speech or policy initiative on HIV is launched or made without referring to data collected and released by UNAIDS.
The Data Hub team works closely with civil society, particularly on strengthening the capacity of young community members on data literacy and the interpretation and use of data.
"Research and data, coupled with the lived experience of our community, provide the evidence we need for an effective response to HIV. The AIDS Data Hub is an essential tool for helping community-based HIV workers across the Asia–Pacific region access relevant research and data to amplify their advocacy for better services, more funding and the scaling up of programming," said Midnight Poonkasetwattana, the Executive Director of APCOM.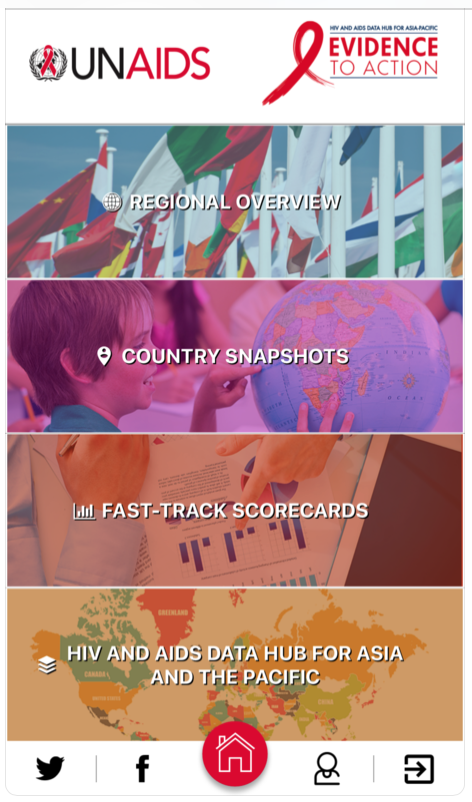 ASIA PACIFIC AIDS DATA HUB Dashboard
Available via:
—
Syndicated from: http://www.unaids.org/en/resources/presscentre/featurestories/2018/november/new-data-dashboard-launched-in-the-asia-and-the-pacific-region